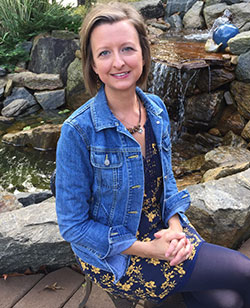 Maike Wegner-Kleine, LMFT
Maike is a Licensed Marriage and Family Therapist and Georgia Board Certified with over 14 years of experience. She holds a Masters Degree in Marriage & Family Therapy from Valdosta State University and a Bachelors Degree in Child & Family Development from The University of Georgia.
Maike has worked in a multitude of settings including Child and Adolescent Community Mental Health, Intensive In-Home Therapy and in Private Practice. She has enjoyed enhancing her work with children, adolescents, adults, families and couples by assisting everyone involved to work collaboratively to achieve their full potential. Maike focuses on issues such as parent-child conflicts, self-esteem, ADHD, communication, stress management, infertility, postpartum depression, anxiety, depression, trust issues, relationship enrichment and many more.
She is Certified in the Prepare/Enrich Program which is used to strengthen and enhance marriages as well as prepare for marriage (Pre-Marital); this program utilizes a comprehensive assessment which the couple will complete along with skill building exercises during therapy.
Maike is of the belief that every person has the ability to experience happiness, balance and intimacy in their life. She believes we all hold the key to live the fulfilling life we all yearn for. Maike works together with clients to identify changes they want to make to their lives and to learn effective ways to make these changes happen. She believes that a healthy relationship with oneself and others is the most powerful healing source. It is her goal to help you feel good about yourself by helping you to look within to find balance and harmony.
To make an appointment, contact Maike at 404-276-5933 or fill out the form below.
We are committed to your privacy. Do not include confidential or private information regarding your health condition in this form.  This form is for general inquiries and scheduling appointments only.
By clicking send you agree that the phone number you provided may be used to contact you (including autodialed or pre-recorded calls).
Treatment is Available
As a private practice counseling office, the goal of Braselton Counseling Group is to help individuals, couples, and families through emotional or behavioral concerns.